Moonlight Commons Shopping Center...
…Is a shopping center located in Gardner, Kansas, home of The Trailblazers at Gardner Edgerton High School.
Logistics Park Kansas City
Moonlight Commons Shopping Center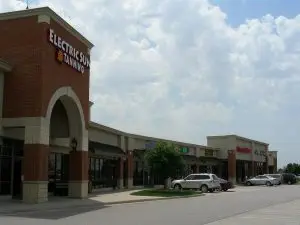 The Bristol Groupe was recruited by Mayor Carol Lehman to bring Gardner Development and shopping to the next level.
Mayor Lehman had seen our properties in Lawrence Kansas and she took a risk and asked us to take a look at Gardner to put our next shopping center.
At first, we were resistant Gardner, was a sleepy town that had not had a ton of investment. Mayor Lehman took us on a tour that lasted a couple of hours and we fell in love with the area. We started to look for sites and found our location on Moonlight Road.
Gardner was the location where the Oregon Trail and the Santa Fe divided many pioneers crossed through the area. It was founded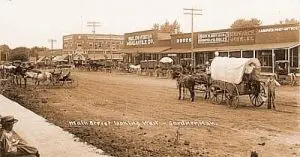 as a Freestate community largely populated by people from Massachusets who came to make sure that Kansas remained free.
Gardner has had a few famous people that came from the area, one of note is Ray McIntire an engineer who graduated from the University of Kansas. Born in Gardner, in 1918 he later went to work for Dow Chemical and invented polystyrene, commonly called Styrofoam.
Bubba Starling a number one draft pick by the Royals from Gardner KS graduated as a star athlete from GEHS. John Means is another MLB player that played with Bubba and is now a pitcher for the Orioles. Gardner is very proud of these young men.
The Bristol Groupe Retail Development & Leasing
Moonlight Commons is an all masonry building that was a catalyst for growth in the Gardner, KS area. When we broke ground in 2004, there was no Wal-Mart, nor many other commercial buildings in the area.

After college, John Cosentino opened the Price Chopper, and that was the main shopping center until Moonlight Commons opened in 2005. Others came and started projects after The Bristol Groupe acted as a catalyst by making a significant commitment bringing Moonlight Commons a big investment in Gardner's future.
Today Moonlight Commons still looks like it is brand new. The Bristol Groupe develops, owns, and manages all of its retail properties. One of our sayings is no one cares like the owners.
We are proud of Moonlight Commons Shopping Center, our tenants deserve the nicest, cleanest, trouble-free experience we can create for them. We know they are proud to be in the center and their clients appreciate the cleanliness and attention to detail that the center offers.
Tenants at Moonlight Commons Shopping Center
Central National Bank
Serc Physical Therapy
Austins Bar & Grill
Moonlight Liquor
Asian Moon Bistro
Central National Bank
When Edward W. Rolfs came to the Central National Bank in 1915, he began an association with the bank that continues today for the Rolfs family.
E.W. Rolfs served as bank president from July 15, 1959 until January of 1967 when his son, E.J. Rolfs, took over as president.
E.C. Rolfs, son of E.J., assumed the responsibility of President and CEO in 1993 until 2016 when niece Sara Girard accepted the role of President. Girard makes the fourth generation of the Rolfs family to work and provide leadership for the bank's day-to-day operations.
Central National Bank has grown from having one location in Junction City, Kansas, to become one of the states' strongest banks, with branches in 24 communities.
This growth in size has allowed Central National Bank to provide a wide array of valuable products and services that are delivered with leading technology, such as online banking, convenient mobile apps and the introduction of Interactive Teller Machines in 2017.
Best of all, these convenient channels are combined with personal, local solutions from community-minded bankers for those times when you need expert advicehttps://centralnational.com/
Serc Physical Therapy
Austins Bar & Grill
Moonlight Liquor
Asian Moon Bistro
Mazee Nails Spa
Papa Johns Pizza
Verizon Wireless
MJH Insurance
Electric Sun Tanning & Boutique
The Split End | Cut & Color
Mazee Nails Spa
Let us give you flawless expressive hands
One of the first things people notice about you is your hands. Make them beautiful with regular manicures.
You are in good hands in our clean environment. Feel confident each time you visit that you are in a clean and healthy environment to ensure your safety.
Are you looking for some personality on your toes?
Even if your fingernails painted a soft neutral color, you can add pizazz to your look with the color on your toes.
Papa Johns Pizza
Verizon Wireless
MJH Insurance
Electric Sun Tanning & Boutique
The Split End | Cut & Color
The Shoppes at Waverly Plaza
coming soon!