Logistics Park Kansas City Near Waverly Plaza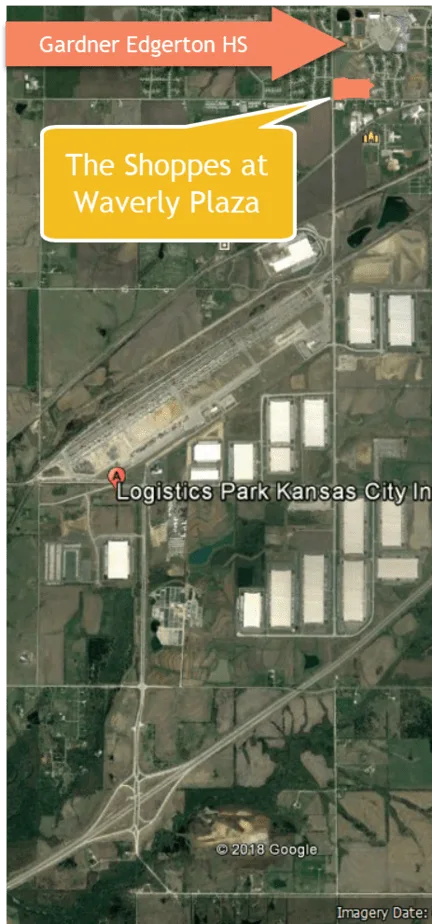 The BNSF Intermodal is located in Edgerton, KS directly adjacent to Gardner Kansas.
Located within eyesight and 1/2 mile of the new Shoppes at Waverly Plaza the newest  shopping center planned to be built in Gardner. 
The location of the new shopping center will be ideal for the rapidly increasing number of employees working in the millions of square feet of industrial. This is the fastest-growing logistics park in the country.
Here are a few of the companies located in Logistics Park Kansas City.
Amazon: 19645 Waverly Road
Arrowhead Intermodal Services: 32355 W. 191st, 913-884-8433
BNSF Railway: 32880 W. 191st, 913-893-4295
ColdPoint Logistics: 19321 Montrose Street, 913-229-3800
DeLong Grain: 32612 W. 191st, 913-884-5151
DEMDACO: 31426 W. 191st, 913-402-6800
Excel Industries: 19251 Montrose St., 800-817-1264
Flexsteel: 31608 W. 191st, 913-228-2106
Horizon Global: 32901 W. 193rd
JB Hunt: 30600 W. 191st, 800-452-4868
Jet.com: 30801 W. 191st, 913-401-4757
Kubota: 3091 W. 191st, 913-215-5277
Smart Warehousing: 18905 Kill Creek Rd., 913-888-3222
Spectrum Brands: 31100 W. 196th, 785-760-7736
Triumph Group: 31800 W. 196th, 816-763-8600
TSL: 19140 Waverly Road, 402-895-6692
UPS: 19400 Essex Street (November 2017)
XPO Logistics: 31459 S. Waverly Road, 844-742-5976